Zoom! Teeth Whitening For A Brighter Smile!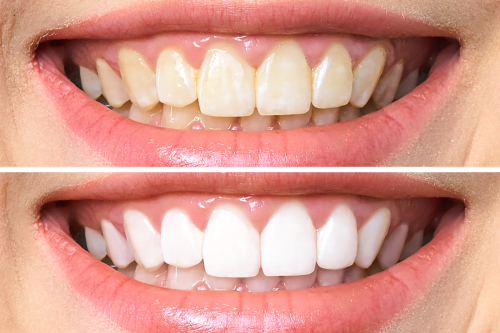 ZOOM! TEETH WHITENING
ZOOM! teeth whitening is one of the most powerful and popular cosmetic dentistry treatments. Natural Smiles in Louisville, KY, offers this cosmetic dentistry option to qualified candidates who want to make their smile multiple shades whiter in just about an hour.
How ZOOM! Teeth Whitening Works
ZOOM! is designed to dramatically whiten teeth in just one dental visit. If your Louisville dentist determines that you are a good candidate for this treatment, here is how you can expect the cosmetic dentistry procedure to go:
Preparation: Cotton rolls and cheek retractors are put in place to protect gums and cheeks while desensitizing gel is applied to prevent the bleaching agents from causing irritation.
Application: A concentrated ZOOM! whitening gel is carefully applied to the teeth.
Activation: A special laser light is focused on the teeth and programmed to activate the whitening process, lifting the stains and whitening tooth enamel.
Repeat: If necessary, application and activation are repeated until the optimal shade of white is achieved.
After all these steps are completed, the safeguards are removed to reveal your bright, white, stunning new smile that can be up to eight times whiter.
Benefits of ZOOM! Teeth Whitening
Everyone who is interested in teeth whitening has their own reasons, all of which are valid. The benefits of whitening, though, are universal no matter who gets this cosmetic dentistry treatment. Here are just some of the perks:
Safe, non-invasive, painless treatment
Make even imperfect teeth look perfect
Look younger, happier, and healthier
Look smarter and more capable
Enjoy long-lasting results with good oral health care and dental cleanings and checkups
The color of your teeth matters, no matter what kind of work you do, no matter your age or station in life. Teeth that are stained, dingy, brown, or gray negatively interfere with your professional goals, love life, and social standing. White teeth, however, can dazzle everyone you meet.
Are You a Good Candidate for Teeth Whitening?
ZOOM! teeth whitening is amazing, but it isn't right for everyone. Maybe you've tried over-the-counter whitening products without success and feel like it's time to get professional bleaching, but there's a good chance that if the most basic whitening treatments don't offer even a little improvement, professional whitening isn't the right treatment for you. You'll only know for sure once you undergo a dental exam and your dentist identifies the intensity of your tooth discoloration.
If your stains are deep within your teeth, or if your natural enamel color is not white, you'll likely need to consider other types of cosmetic dentistry treatments to conceal the discoloration. Porcelain veneers, dental bonding, and porcelain crowns are potential alternatives.
Your teeth also need to be healthy and free of decay or infection before any whitening can take place. What is not necessary, however, is perfection. Your teeth can be misaligned or crooked or gapped or otherwise flawed and ZOOM! whitening is so powerful the treatment can make those problems just fade into the background.
Get ZOOM! Teeth Whitening from Louisville Dentist Near Me
Don't be embarrassed to show up at your dentist with dingy teeth. They do hard work every day, biting and chewing and being washed over by what you drink. The tiny grooves in your teeth collect food particles and, over the years, the stains build up. Good oral health care helps keep the worst of the discoloration away, as well as regular teeth cleanings, but sometimes you just need a little more and professional teeth whitening delivers.
Contact Natural Smiles in Louisville, KY, today to schedule a consultation and find out if you're a good candidate for ZOOM! teeth whitening.