GET A BETTER SMILE WITH INVISALIGN ALIGNERS. CALL TO SCHEDULE YOUR APPOINTMENT.
Invisalign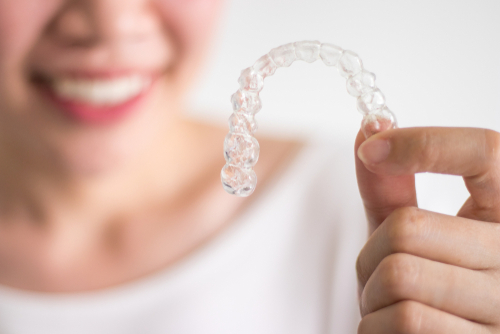 Braces are not the domain of teenagers alone, and metal braces are not the only way to straighten your teeth. Invisalign is the most innovative way to get an aligned smile without anyone really knowing you're undergoing treatment. The nearly invisible trays are available for qualified candidates through Natural Smiles in Louisville, KY, a certified Invisalign provider.
How Does Invisalign Work?
Invisalign is a straightforward method for aligning both teeth and bite, but the work is done discreetly, which makes this an appealing treatment for busy adults. Once your dentist has done an exam and determined that this method works for you, expect the following:
3D imaging: A 3D digital image of your mouth is taken so your dentist can shift your teeth around on the screen and observe your changing jaw from various angles. This allows for the creation of a complete Invisalign treatment plan before you even have trays in your mouth.
Customized aligners: All the details your provider gathers – including 3D images, x-rays, and impressions – are sent off to the dental lab and your first sets of customized clear aligners are created just for you. The trays will be given to you several sets at a time and changed out regularly so your teeth and roots are moved simultaneously until your entire smile is aligned.
Attachments: If needed, your treatment may involve the placement of small composite dots on several teeth known as attachments. These temporary shapes are like anchors that help the aligners fit better and move teeth more effectively.
Invisalign By the Numbers
As for the actual reality of living with Invisalign, it turns out to be a bit of a numbers game. Most people undergo treatment for about one year – half the time of traditional metal braces – but treatment could be as brief as six months or longer than a year. It depends on how complex your case is and how well you comply with the rules of wearing Invisalign.
Trays must be worn for 20 to 22 hours a day.
Aligners should only be removed about 4 times a day for meals and cleanings.
Each set of trays is worn for about 2 weeks before switching to the next trays.
Visit your dentist every 6 weeks for a checkup and so you can collect your next sets of aligners.
Some of the Many Benefits of Invisalign
Invisalign is a commitment, just like any other orthodontic treatment. It is a daily responsibility that requires your attention and dedication, but the benefits far outweigh the few minutes of obligation you must deal with every day.
You're free: Ask any wearer of traditional braces what they miss most and they're guaranteed to say they wish they could take their braces off sometimes. With Invisalign, you can whenever you want as long as you keep the trays in for long enough every day.
No self-consciousness: If you've long been embarrassed about the appearance of your crooked, gapped, or otherwise misaligned teeth, you won't have to feel that way anymore. You can go about your entire lifestyle without any interruption from inconvenient braces. Invisalign just tags along in the background.
User-friendly: Invisalign is as easy as wearing the trays as instructed and removing them for eating and cleaning. The aligners are clear, smooth, and comfortable, so there are no brackets or wires that snag your soft tissues or end up with food stuck in them. Invisalign is easy and user-friendly.
Find Out If You're an Invisalign Candidate from Your Louisville Dentist
Invisalign can fix nearly everything that conventional braces can correct, from overbites to underbites, gaps to open bites. Schedule a consultation with Dr. Kiran Gill at Natural Smiles in Louisville, KY, to find out if you're a good candidate for this innovative, discreet treatment.