Clear Braces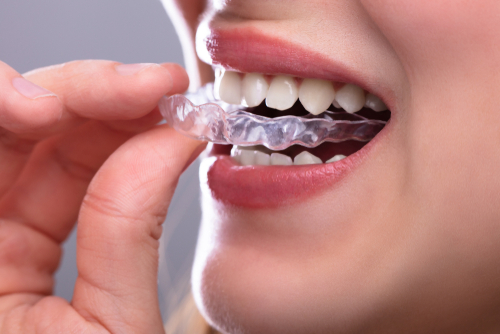 Most of the people who are determined to improve their crooked, gapped, or crowded teeth invest in clear braces to transform their smile. Modern innovations like Invisalign have made discreet braces a reality for adults and teens, and you can find out if you're a good candidate for this treatment from certified Invisalign provider Dr. Kiran Gill at Natural Smiles in Louisville, KY.
Transform Your Smile with Invisalign Clear Braces
Invisalign are the most well-known clear braces available today. Just like conventional metal braces, Invisalign can correct bite problems, crowding, gaps, and more – all without drawing attention to the mouth. If you are curious about whether clear braces can work for you, the journey begins at the dental office of your Louisville certified Invisalign provider.
Consultation: The dentist takes x-rays and 3D scans and conducts a thorough orthodontic examination to review the health of your mouth and positioning of your teeth. This information forms a clear picture that determines whether someone is a good candidate for clear braces.
Planning: There are no questions about how treatment will progress. The dentist will plan the entire program from beginning to end, charting the exact movements of the patient's teeth so it's possible to see how a smile changes over time.
Development: The images and entire Invisalign plan are sent to an Invisalign dental lab to create the first several sets of customized trays.
Preparation: Before wearing the first clear braces trays, the patient may have attachments bonded temporarily to the teeth. These small, tooth-colored dots anchor the aligners more firmly in place so teeth and roots can be pushed more effectively into alignment.
Treatment: Once aligners are back from the dental lab and attachments are in place, patients are taught how to insert and remove their clear braces, clean them, and manage on their own at home.
Check-ins: Appointments are scheduled every six to eight weeks so treatment progress can be monitored and the next sets of trays can be collected. They are changed about every two weeks.
Benefits of Louisville Clear Braces for Adults and Teens
There is Invisalign and there is Invisalign Teen, and while the treatment for both types of clear braces differs only slightly, the benefits for adults and teenagers are always the same:
Discreet: There is no other alignment method as discreet as clear braces which look nearly invisible and are almost impossible to see on the teeth.
Comfortable: No brackets or wires jabbing the lips and cheeks. Trays are smooth and comfortable so they slide right off the lips and fit snugly against the teeth.
No restrictions: There are rules to wearing Invisalign, of course, but there are no food restrictions at all. Because the clear braces must be removed for every meal, wearers can eat anything that their tender teeth can handle.
Easy cleaning: There isn't anything fancy that must be done to clean this type of braces. Brush and floss teeth as normal, and soak the aligners according to the dentist's instructions.
Fast treatment: When compared with the amount of time it takes to get a full round of metal braces, invisable braces typically take half the length of time – only about one year.
Get Clear Braces from Your Louisville Dentist
Whether Invisalign patients are adults or teens, neither group wants to draw all that much attention to themselves by wearing noticeable hardware on their teeth. This type of braces offer the best of all worlds, effectively shifting teeth into alignment without anyone really knowing it's happening.
Patients can eat, smile, speak, and laugh confidently with Invisalign in place. This is one treatment that is easy to live with and manage no matter what misalignment is being addressed. Find out if you are a good candidate for this type of braces. Contact Natural Smiles in Louisville, KY to schedule an appointment.