GET A BETTER SMILE WITH INVISALIGN ALIGNERS. CALL TO SCHEDULE YOUR APPOINTMENT.
Invisalign Candidate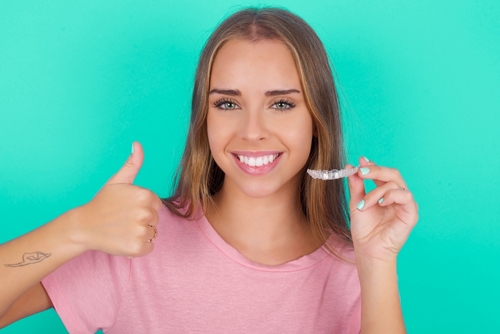 If you have crooked or gapped teeth and the idea of clear braces is appealing to you, the first step is to find out if you're a good Invisalign candidate. Only a certified Invisalign provider like Dr. Kiran Gill can tell you for sure if this treatment is right for you. Schedule an appointment with the dental team at Natural Smiles in Louisville, KY, to get a dental exam and learn more.
Alignment Problems That Make You a Good Invisalign Candidate
It's the type of unique alignment problem a person has that determines whether they're a good Invisalign candidate. While clear braces can correct nearly every alignment problem that traditional metal braces correct, every patient is different. Here are the most common issues that Invisalign is used to address:
Crooked teeth
Overbite
Underbite
Crossbite
Open bite
Crowding
Gaps
How Your Dentist Determines If You're an Invisalign Candidate
Every Invisalign patient is different, but qualifying for this advanced treatment requires the same investigation by your Louisville dentist which includes the following:
Dental exam: It's important for your dentist to see what's going on with your teeth and gums right now and get a complete picture of your oral health before greenlighting you for Invisalign. You must be free of tooth decay, gum disease, and any other infections or problems.
Oral health history: Have you had braces in the past but relapsed? Are your oral health problems a recent development? Your dental history matters when it comes to what's appropriate for correcting your teeth now.
Lifestyle: Committing to Invisalign is different than wearing conventional metal braces which are attached to your teeth. Invisalign wearers are responsible for removing the trays for meals and cleanings and keeping up with switching out trays as instructed. Some patients are better-suited for this kind of effort.
Digital imaging: Through 3D imaging and digital x-rays, your Louisville Invisalign provider can see how your teeth look and whether it's possible for Invisalign to move them where they need to go.
Reasons Patients Want to Be an Invisalign Candidate
If you know you're in need of dental alignment, there are many characteristics of Invisalign that make this an attractive treatment in comparison to other types of orthodontics. Patients – adults and teens alike – often choose Invisalign for the following reasons:
Discreet treatment: Never thought you'd have straight teeth because you had no intention of sporting a metal mouth? Invisalign offers the option to align your smile discreetly. The trays are clear, thin, and fit snugly against the teeth so they don't draw any attention.
Fast treatment: When compared to conventional braces, Invisalign takes about half the time to complete – an average of 12 months. Sometimes, patients who have minor misalignment require even less treatment time. Invisalign moves both teeth and roots simultaneously, speeding up the process, a few teeth at a time.
Freedom: Aligners must be worn for 20 to 22 hours a day, but they can always be removed when needed. There is no removing brackets and wires when they're inconvenient or when you're eating a meal. Invisalign fits seamlessly into your lifestyle without require much extra attention.
Comfortable: The clear trays of Invisalign are smooth and do not scrape or jab the soft tissues of your mouth. Wearing the aligners is comfortable, though they are snug and will deliver some pressure at the start of each set as they move the teeth around.
Ask Your Louisville Dentist If You're a Good Invisalign Candidate
If you want a subtle, efficient way to straighten your smile, it's time to make an appointment with Natural Smiles in Louisville, KY, to find out if you're a good Invisalign candidate. Improve your smile and your oral health with this innovative cosmetic dentistry treatment.