GET A BETTER SMILE WITH INVISALIGN ALIGNERS. CALL TO SCHEDULE YOUR APPOINTMENT.
Invisalign 101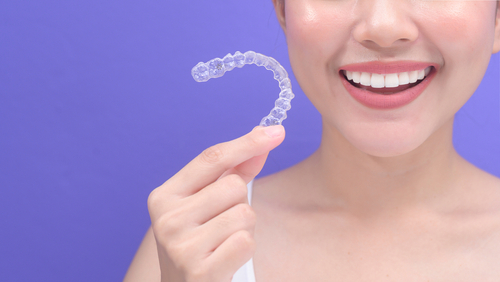 There are many facts to learn about Invisalign to learn as you prepare to become a patient and undergo this innovative alignment method. Invisalign 101 takes you through the most pressing details so you know what you're signing up for. The rest of the information will be filled in by certified Invisalign provider Dr. Kiran Gill and her experienced dental team at Natural Smiles in Louisville, KY.
Invisalign By the Numbers
There are many numbers surrounding Invisalign treatment, and these consistent digits are comforting for patients who want to know exactly what's going to happen and when. Though Invisalign is customized to every person, below are the number rules that apply to every wearer:
20 to 22 hours: Invisalign trays must be worn for the majority of every day so the treatment is effective. They should only be removed for meals and snacks, as well as cleanings – a total of no more than four hours daily.
2 weeks: Every set of aligners is switched out for the next set every two weeks. This allows the tooth roots and crowns to move simultaneously and consistently until they're in full alignment.
8 weeks: You will visit your Louisville Invisalign provider every six to eight weeks to pick up your next sets of trays and to undergo a checkup to ensure that Invisalign is working properly and your teeth are moving as they should.
1 year: The average time of Invisalign treatment is 12 months, though some patients may need more time to achieve the necessary movement. Others enjoy a shorter treatment time. It all depends on compliance with wearing the trays and the complexity of the case.
Invisalign 101: Benefits and More
There are many personal reasons people are drawn to Invisalign, but the benefits are plenty and they apply to every patient:
Discreet: The top fact of Invisalign 101 is that the clear trays used in this treatment have a nearly invisible design. They are the definition of discreet, which means no one will notice your cosmetic dentistry at work, while socializing, or in photos.
Easy: There isn't a great demand on your time when it comes to wearing Invisalign. You'll be wearing the trays for 20+ hours a day and that's easy to do once they're in your mouth. The rest of the time your responsibilities are to remove the trays when eating and clean them a few times a day. Easy.
Comfortable:Brackets and wires can be difficult to get used to for anyone who wears conventional braces. Invisalign trays, though, are smooth, slim, and do not snag lips or cheeks.
No restrictions:Ask any traditional braces wearer what they dislike most about their treatment and they will respond that they hate the food restrictions. Invisalign wearers don't have such limitations. The trays are removed for every meal and snack so you can eat whatever you want, whenever you want, if your tender teeth can handle it.
Versatile:There are a few different versions of Invisalign which make it a good option for different patients and their differing needs. Invisalign Teen is particularly noticeable for how it is adjusted to work for adolescents, especially with special tooth eruption tabs and wear indicators to monitor compliance.
Find Out If Invisalign Is Right for You
Every person is different, and though you may want straight teeth, it's only after a full exam and digital imaging that your Louisville, KY, Invisalign provider can determine for certain if you're a good candidate for this treatment. Find out what's possible for your teeth at Natural Smiles. Contact us today to schedule a consultation.