HOW MUCH DOES INVISALIGN COST?
Invisalign cost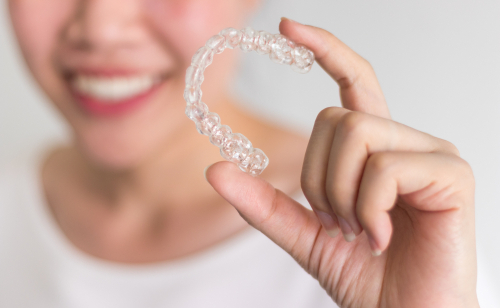 One of the first questions potential Invisalign patients have is, "How much does Invisalign cost?" They may be very interested in this discreet treatment that uses nearly invisible aligners, but they also want to know just what they're in for financially. Find out what to expect for your treatment from certified Invisalign provider Dr. Kiran Gill and her dental team at Natural Smiles in Louisville, KY.
Breaking Down Invisalign Cost
Invisalign costs aren't one-size-fits-all. There are several factors that affect the price of this cosmetic dentistry treatment. Your Louisville Invisalign provider will take you through each point to explain the fees and why this desirable alignment method can be affordable for your budget.
Complexity of the treatment: Some patients need their teeth fully aligned, others need gaps closed, and still more need some teeth turned in the right direction. The more complex a case, the more trays that are needed to complete the process and the more visits to your dentist, which adds to the final cost.
Length of treatment time: All Invisalign treatment plans are developed in full before the first aligner is put on your teeth. You will know from the start exactly how many trays you will need to wear, how many months treatment is expected to take, and if you will need attachments. The longer it takes to align your smile, the higher treatment costs will be.
Level of compliance: The patient impacts the success of Invisalign treatment the most – and, as a result, Invisalign costs. When you wear your trays as instructed, take care of your aligners, and avoid breaking, losing, or damaging Invisalign, your plan will stay on track and keep additional costs at bay.
Age range: Invisalign is designed for both adults and teenagers. The rules of treatment are the same for everyone, but wearers of Invisalign Teen typically have wear indicators to show how well they comply with wear time. They may also have tooth eruption tabs allowing room for permanent teeth to slide into place. These extras will impact Invisalign cost.
Ultimately, the range for Invisalign costs can fall anywhere between $3,000 and $7,000. These are not hard and fast numbers – every patient is different. But you will know before Invisalign begins where you stand financially, and you will be given a full treatment plan and cost breakdown.
All-Inclusive Invisalign Cost
Patients sign on for Invisalign treatment because they have undergone a complete dental exam and undergone other imaging methods and been assured it will work for them. The services provided for this treatment are all-inclusive and comprehensive so, from start to finish, a long list of perks are included in the final Invisalign cost, including:
Aligners
Aligner case
Attachments
Dental lab work
Digital x-rays and other images
Impressions
Initial dental exam
Office visits and checkups
Retainers
Discuss Invisalign Cost with Louisville Invisalign Provider
At Natural Smiles in Louisville, KY, Dr. Gill and her team want every patient to feel good about their smiles and themselves. For many people, getting to a place where they are proud to show off their teeth involves getting Invisalign. This investment is worthwhile for many reasons, not the least of which is that it results in a strong, straight, beautiful smile.
Getting Invisalign treatment is worth the cost because it can save you from future dental fees. A straight smile is a healthier smile because it's easier to clean and far less likely to develop a teeth-grinding issue with all side effects like enamel erosion, gum recession, and damaged teeth.
If you are interested in Invisalign, schedule an appointment at Natural Smiles to find out whether you're a good candidate and learn more about Invisalign costs.