ARE YOU A GOOD CANDIDATE FOR VENEERS? CALL TODAY.
Veneers Candidate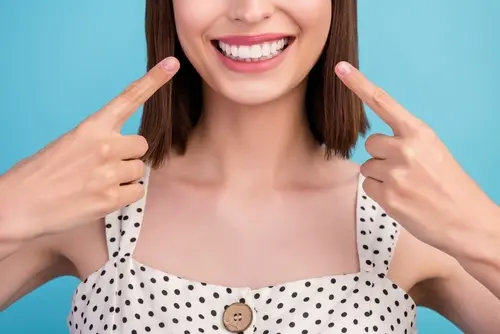 Many people who are interested in cosmetic dentistry are surprised to discover that they're an excellent porcelain veneers candidate. What's most necessary to qualify for this treatment is a strong foundation and good oral health. If you're unhappy with the appearance of your teeth for one or multiple reasons, you too can get a flawless smile that makes you look like a celebrity. Find out if you're a good candidate for porcelain veneers at Natural Smiles in Louisville, KY.
Are You a Good Veneers Candidate?
It's not always easy to admit that you're unhappy with your teeth. Some people live with what they have because they don't realize there is a solution for a less-than-perfect smile. Patients who fit into the following categories are often the best veneers candidates:
You're embarrassed by your teeth.
You avoid smiling in photos or videos or avoid them entirely.
You hate Zoom and FaceTime because they're too focused on your face.
You only smile with your mouth closed.
You choose not to speak so you don't draw attention to your teeth.
If you dislike anything about your teeth or feel they are holding you back from being your authentic self in any way, it's time to find out if cosmetic dentistry can help you make a change.
Problems Fixed by Porcelain Veneers
Everyone's smile is unique, and patients who undergo veneers treatment receive customized porcelain shells that are carefully shaped, sized, and tinted before being bonded to their teeth. This solution is versatile and makes it possible to fix everything you dislike about your smile in just one procedure, including problems like:
Stains and discoloration
Chips and cracks
Gaps
Misalignment
Gummy smile
Short teeth
Worn teeth
Asymmetry
Narrow smile
The Path to Porcelain Veneers
Veneers take time to customize and apply to every patient's teeth. Though each veneers candidate is different, the path to achieving a smile makeover with this cosmetic dentistry treatment is the same for everyone and goes something like this:
Consultation: That first visit to your dentist lets them know what you're interested in changing about your teeth. You will discuss the finer points of getting veneers and whether your smile is healthy enough for this treatment and whether it's the appropriate method of upgrading your teeth.
Examination: The second part of your initial consultation includes a full exam, x-rays, and 3D imaging to check your oral health and see how veneers would work for your teeth.
Other treatments: If your dentist identifies any problems with your oral health, they will need to be addressed before the veneers can be put in place. This might mean there is a need for a tooth-colored filling or gingivitis treatment. Some patients require laser gum contouring before veneers so they fit better or a few porcelain crowns in conjunction with the porcelain shields.
Planning: One of the most exciting parts of planning your veneers smile makeover is designing the color, shape, size, length, and translucency of every veneer with your dentist so the veneers are flattering to your appearance and form a gorgeous, natural-looking smile.
Find Out If You're a Good Veneers Candidate
Porcelain veneers are used to create the smiles of the stars, but you can join that club by finding out if you're a veneers candidate yourself. At Natural Smiles in Louisville, KY, our dental team is delighted to help every patient achieve the smile of their dreams, whether that's with porcelain veneers or another type of cosmetic dentistry.
Schedule a consultation with us today to find out if you're a good veneers candidate and how you can transform your teeth.