ELIMINATE TOOTH STAINS, CHIPS, AND GAPS! CALL TODAY.
Veneers 101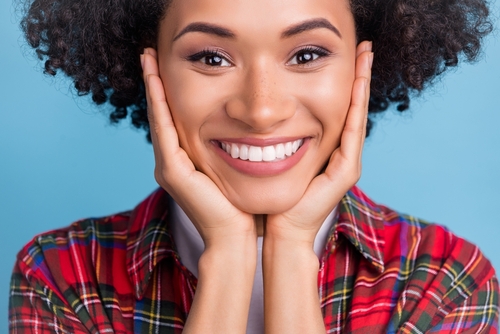 There is a lot to know about porcelain veneers, one of the most popular, comprehensive cosmetic dentistry treatments available. At Natural Smiles in Louisville, KY, Dr. Kiran Gill and her dental team help patients understand the cosmetic dentistry treatments they're interested in so, together, a decision can be made about the best path to a customized smile makeover. This Veneers 101 page is a collection of important facts about porcelain veneers.
The Components of Porcelain Veneers
Veneers are small shields of extremely thin porcelain that are customized to fit over your teeth and transform your teeth, smile, and overall appearance.
You and your cosmetic dentist discuss the characteristics of your veneers, from color to size, shape to translucency.
Every detail matters so a natural-looking result can be achieved.
The Veneer Process
It usually takes only two dental visits to get porcelain veneers. The process will vary depending on the type of veneers you receive.
Some patients opt for no-prep veneers, which means natural teeth need not be shaved down significantly to place the shields – only a light sanding and cleaning are necessary.
Once the prep visit is complete, impressions are taken, and digital images are ready, all the information is submitted to a dental lab.
Veneers are customized and ready for bonding about two weeks after the initial visit.
The Life of Porcelain Veneers
Porcelain veneers that are done well and applied properly can last for decades.
This cosmetic dentistry treatment is intended to have impressive longevity, and all you must do to take care of them is brush and floss normally every day and see your Louisville dentist every six months for a checkup.
Veneers are stain-resistant too, as long as you don't overdo it on red wine, dark curries and sauces, coffee, or colas.
Problems Fixed by Veneers
If you have multiple cosmetic complaints about your teeth, there is a good chance that veneers are just the right solution to fix all of them.
These small pieces of porcelain can conceal a host of dental complaints, including tooth stains, discoloration, chips, gaps, misalignment, worn enamel, short teeth, asymmetry, and a narrow smile.
As long as your mouth is healthy, veneers could be the solution to transform what you dislike about your broken-down smile.
The Cost of Porcelain Veneers
Veneers are on the high end of cosmetic dentistry treatments, but they are worth the investment for how powerful they are in transforming a person's appearance and confidence.
The final cost of veneers ultimately depends on the number of veneers you get, materials used, prep required, the dental lab used, and your dentist's experience.
Various payment options make this treatment accessible for every budget.
The Number of Veneers Needed
Veneers are typically placed across the top front teeth, though some patients want veneers on both their top and bottom teeth.
If you only get top veneers, 8 to 10 is the usual number to ensure that the most visible part of your smile is covered and transformed.
Veneers can be used on just one or two teeth to correct imperfections and blend into a person's smile.
After Reading Veneers 101, Is This Treatment Right for You?
Whatever your motivation for pursuing a new smile, veneers are a life-altering cosmetic dentistry treatment. Beautiful and tough, they deliver a result that lasts and helps you look younger, happier, healthier, smarter, and more competent. People will wonder how you got so lucky with such gorgeous teeth.
Your appearance affects how you feel about yourself, which affects your professional and personal life. The better you look, the more successful you will be. Contact Natural Smiles in Louisville, KY, to set up a consultation and discuss your smile makeover goals.