Start Your New Smile Now!
Invisalign Aligners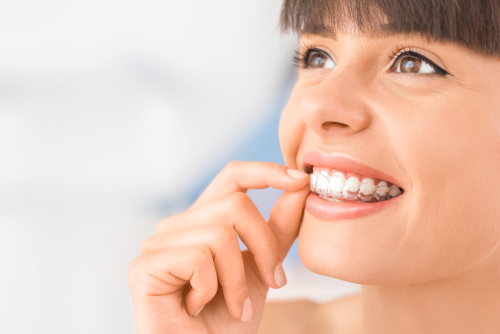 One of the top reasons dental patients choose to pursue Invisalign is because the treatment is nearly invisible. No metal brackets and wires, no rubber bands, no obvious hardware – Invisalign aligners are clear and almost impossible to see. At Natural Smiles in Louisville, KY, Invisalign provider Dr. Kiran Gill and her dental team offer this innovative treatment to qualified candidates.
Benefits of Invisalign Aligners
There are many benefits of Invisalign aligners and any patient who already wears them can attest to their excellence. If you're still considering this option for your own alignment, here are just some of the reasons to appreciate this teeth-straightening method.
Discreet: Invisalign aligners are discreet so wearers can speak, smile, pose for photos, and go about work, life, and play without any interruption.
Easy mealtimes: Invisalign trays must be removed for every meal and snack to make sure they don't break or stain and food doesn't get caught against your teeth. It's easy to slip off the aligners and eat whatever you want, whenever you want, without any restrictions.
Comfort: Anyone who has the chance to decide between conventional orthodontics and Invisalign aligners is often swayed by the comfort promised by Invisalign. There are no brackets or wires poking cheeks, gums, and lips. The Invisalign aligners are smooth, comfortable, and easy to wear.
Freedom: No one wants to feel hemmed in by their dental care every day, especially adults. Invisalign fits smoothly into your lifestyle once you make the initial adjustment to wearing the trays. The aligners must be worn for 20 to 22 hours a day, removed for meals and cleanings, and otherwise there isn't any interruption to daily life.
Good oral health: No matter what kind of alignment method you pursue, straight teeth are ultimately healthier teeth. The cosmetic benefits will be obvious thanks to Invisalign aligners, but it's also easier to clean and maintain straight teeth, which results in a lower chance of cavities, gum disease, enamel erosion, and more.
Are You a Good Candidate for Invisalign Aligners?
Nearly every misalignment that can be corrected by traditional metal braces can be addressed with Invisalign aligners, from overbite to underbite, open bite to gap teeth and more. Your Louisville dentist lets every interested patient know if they are a viable candidate for this alternative orthodontic treatment. Here's how the decision-making will proceed:
Dental exam: The only way to determine if Invisalign aligners are right is to undergo a thorough dental exam and have 3D images taken. This thorough review of alignment and overall oral health will help your Louisville Invisalign provider determine if you are a good candidate for the treatment.
Treatment plan: Once a patient's viability for Invisalign is determined, special software is used to design a treatment plan from start to finish. This step will answer questions about how long treatment is, how many trays will be needed, and how your smile will shift over time. The goal is for interested patients to take this information home with them to determine if they're ready for the Invisalign commitment.
Start treatment:Once you're prepared to move ahead with Invisalign, the first sets of trays will be ordered. When they arrive, your dental team will guide you in inserting and removing the aligners as well as cleaning them. At this point, attachments will be added to the teeth as anchors for the trays if necessary.
Get Invisalign Aligners in Louisville, KY
Invisalign aligners apply gentle, consistent pressure to move teeth and roots at the same time until the entire smile is in alignment. On average, treatment takes about one year to complete though this timeline will vary for every patient. Find out whether Invisalign is right for you at Natural Smiles in Louisville, KY. Schedule a consultation today.