REPLACE MISSING TEETH AND MAKE YOUR SMILE WHOLE AGAIN. CALL TODAY FOR A CONSULTATION.
WE HAVE THE BEST SOLUTION FOR YOUR SMILE
EMBRACE A NATURAL-LOOKING TOOTH REPLACEMENT
EVENING HOURS FOR YOUR CONVENIENCE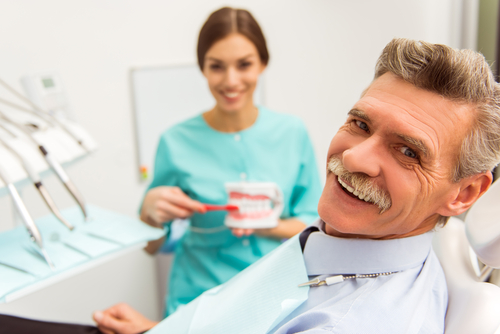 Dentures don't mean looking like your grandma or grandpa. In fact, the latest trend in dentures options is cosmetic denture. They can actually give you the more youthful appearance that comes with white, straight teeth and healthy-looking gums. At our Louisville, KY dental office, we can get you comfortably fitted with a beautiful set of cosmetic dentures in-house. Call us at 502-893-5225 to schedule your appointment with our Louisville, KY dentist to start the process of replacing your missing tooth or set of teeth.
How will dentures affect my lifestyle?
Your lifestyle has probably already been significantly changed by tooth loss. A cosmetic denture can return the confidence you once had when your smile was complete, and they will give you the ability to enjoy foods again that were too difficult to eat without teeth.
Cosmetic dentures are a gum-shaped frame lined with a lovely imitation of natural teeth. If you've experienced a droop in your facial features since losing your teeth, a cosmetic denture can act as a mini facelift to refresh your youthful features.
Louisville, KY dentist, Dr. Kiran Gill and our team can answer any questions you may have about the care of your new cosmetic denture.
Are dentures right for me if I'm missing only a few teeth?
Cosmetic dentures are an excellent solution for severe tooth loss. If you're missing only a few teeth, dental implants or a bridge might be a better solution for you. Dr. Gill can discuss all of your options with you at our office.
What is the difference between dentures and a dental bridge?
Cosmetic dentures are a natural-looking tooth replacement that will return your ability to chew with ease and smile freely. Dentures can be removed for cleaning and while you sleep. A dental bridge uses your teeth to support a series of permanent replacement teeth you never have to remove. You can talk to Louisville, KY dentist, Dr. Gill about which procedure is best for you.
If you're ready to bring the beauty back to your bite, call us at 502-893-5225 or use our convenient online form to schedule your appointment.