GET A BETTER SMILE WITH INVISALIGN ALIGNERS. CALL TO SCHEDULE YOUR APPOINTMENT.
CLEAR bRACES VS. mETAL BRACES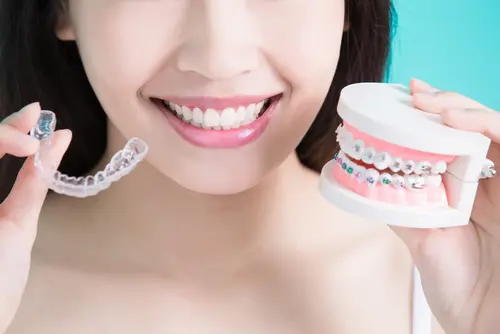 There are options when it comes to straightening your smile. Some people want clear braces like Invisalign, others want metal braces, some would prefer cosmetic dentistry like porcelain veneers to avoid orthodontics. Learn how to accurately weigh clear braces vs. metal braces with help from the dental team at Natural Smiles in Louisville, KY.
Factors to Weigh When Deciding Between Clear Braces vs. Metal Braces
Many adult orthodontic patients are drawn to Invisalign. They want to get straight teeth discreetly and not wear noticeable brackets and wires. There's more to the braces you choose than how they look though. Here are just some factors to consider as you decide between clear braces vs. metal braces:
Commitment: All braces are a commitment. Metal braces are adhered to the teeth to do their work 24/7 while Invisalign is removable but must be worn for 20 to 22 hours a day. The length of the treatment will depend on your unique case but Invisalign is worn for a year, on average, and metal braces take around 18 months to over two years.
Complexity: You might qualify for Invisalign, but your dentist may urge you to get metal braces instead to manage a complex bite or serious misalignment problem. A complete consultation with your cosmetic dentist and certified Invisalign provider will determine what's best for you.
Constraints: Invisalign wearers can eat their favorite foods with no restrictions because the trays are removed for every meal. Wearers of metal braces need to keep their distance from hard, sticky, chewy, crunchy, or acidic foods that could damage their brackets and wires.
Comfort: Whether you wear clear or metal braces, you will feel some discomfort, but not all the time. There will be pressure as your teeth shift into new positions. The big difference between clear braces vs. metal braces is that clear braces are smooth and do not jab the lips or cheeks like the brackets and wires of metal braces and for some patients this is everything.
Commit to a New Smile with Invisalign Clear Braces
Both clear and metal braces are beneficial, effective, and deliver amazing results. Invisalign, though, has taken the world by storm, opening the possibility of a straight smile to so many people who thought they missed their window. There are many reasons a person might choose Invisalign over metal braces but some of the most common include:
Discretion: Clear braces, thin aligners, a snug fit – these are all major benefits that make Invisalign a discreet alignment option. Adults especially love this treatment because they feel confident about doing something good for their oral health that doesn't interfere with their life, personally or professionally.
Timeline: Invisalign is a quick and easy treatment that, for some people, may take less than a year to complete. The average timeline is about a year but every patient is different. No matter how your case fits, it will be shorter than metal braces because Invisalign moves both tooth roots and crowns simultaneously.
Ease of use: Braces you can take off? Yes, please. Many patients are looking for the most agreeable and efficient method for straightening their smile. Invisalign only requires you to wear the trays, change them, and clean them. It's easy to eat and brush.
Get Clear Braces from Your Louisville Invisalign Provider
Unless you have an extremely complex case, the cost of clear braces vs. metal braces is similar. Invisalign and braces also correct the same alignment problems – overbites, underbites, open bites, cross bites, spacing, and crowding.
After a careful evaluation including 3D imaging, your Louisville Invisalign provider will make a diagnosis about whether clear braces or metal braces are right for you. Contact Natural Smiles to schedule a consultation.