ELIMINATE TOOTH STAINS, CHIPS, AND GAPS! CALL TODAY.
PORCELAIN Veneers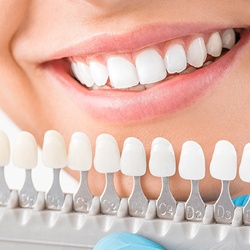 Porcelain veneers are one of the most powerful, transformative cosmetic dentistry treatments available. The thin, porcelain shells are designed to create a flawless, natural-looking smile. If you are ready to upgrade your teeth, it's time to talk to Dr. Kiran Gill at Natural Smiles in Louisville, KY, about getting your customized smile makeover
Characteristics of Porcelain Veneers
Whatever your motivation for pursuing a new smile, porcelain veneers are guaranteed to be a life-altering cosmetic dentistry treatment. Here are just some fast facts about veneers:
Tough: The material used for veneers is made of super-thin porcelain or ceramic that is incredibly tough and long-lasting.
Stain resistant: It is very difficult to stain a veneer. If you brush and floss and see your dentist regularly, the color of your veneers should last for a very long time.
Color-matched: You and your Louisville cosmetic dentist will carefully select the color of your veneers, so they properly flatter your appearance and skin tone and look natural.
Translucent: Veneers look like natural teeth because their level of translucency is carefully calibrated to reflect and allow the right amount of light to pass through.
Carefully shaped: The shape of a tooth impacts whether it looks normal on you. Teeth can be square or rounded, longer or shorter. Subtle variations – not chicklet teeth – are what look natural. Veneers should never be identical in shape or size.
Problems Fixed by Porcelain Veneers
Veneers are versatile. They conceal multiple aesthetic complaints at the same time. In just one procedure that usually takes only two visits to your Louisville cosmetic dentist, you can walk away with a flawless, balanced smile that makes you look like a VIP.
Customized veneers placed over your natural teeth can cover up problems like:
Stains or discoloration
Short teeth
Chipped teeth
Gapped teeth
Worn enamel
Misalignment
Surface cracks
As long as your teeth are healthy underneath the veneers and the tooth structure is firmly intact, this smile makeover can restore the appearance and functionality of your teeth.
The Porcelain Veneer Procedure
One of the lengthiest parts of the porcelain veneer procedure is deciding on the customized characteristics of the veneers. From there, the treatment goes something like this:
Impressions: Impressions and careful measurements of the teeth are taken so custom-made shields can be crafted in the dental lab.
Prep: Each tooth is carefully prepared to make room for the veneers. A small portion of enamel is shaved away to allow the veneer to lay flat.
Bonding: Once the permanent veneers are ready, they will be tested for size, shape, color, and fit, then your dentist will bond them permanently in place.
Cost Factors of Porcelain Veneers
Cosmetic dentistry treatments are an investment in your smile and oral health. The cost factors of porcelain veneers will vary but typically include the following considerations:
How many veneers you get
Materials used to make the veneers
Your cosmetic dentist's expertise
Geographic location
The dental lab used
At Natural Smiles, we offer several payment options, including CareCredit, to make every dental treatment accessible for you and your budget.
Are Porcelain Veneers Right for You?
How you look affects your self-esteem, which affects your professional life and personal life. When you know you look good, you'll be happier, more confident, and more successful. Cosmetic dentistry like porcelain veneers is life-changing, and when you find the right smile makeover for you, you'll wonder why you didn't make it happen sooner.
Schedule a consultation with the cosmetic dentistry team at Natural Smiles in Louisville, KY, to find out whether you're a good candidate for porcelain veneers. You can even leave our office with a mock set of veneers that last for about a day to give you an idea of how you'll look with a new smile.