KöR! Teeth Whitening For A Brighter Smile!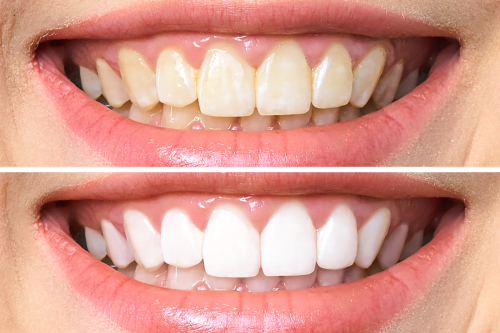 KöR TEETH WHITENING!
There are many types of professional teeth bleaching products, but there is nothing quite like the powerful KöR teeth whitening. This treatment is known for making teeth sparkle and reaching stains that other bleaches cannot. Natural Smiles in Louisville, KY, offers KöR teeth whitening as a powerful cosmetic dentistry treatment to qualified patients who want stunningly white, bright smiles.
KöR Two-Part Teeth Whitening
KöR takes a little more time than your typical one-hour in-office teeth whitening treatment, but ask any patient who's undergone this cosmetic upgrade and they'll tell you it's worth it. Effective and powerful, KöR delivers incredible results through an in-office treatment and at-home bleaching combo. Here is how the procedure works:
Tray fitting: Your Louisville cosmetic dentist makes molds of your unique teeth and these are sent to the dental lab which creates customized whitening trays. This extra step allows for a perfect fit and, as a result, more comfortable treatment.
At-home whitening: The first bleaching step is done at home. Patients fill their whitening trays with the recommended amount of bleaching agent. The trays are worn over two consecutive weeks, usually while you sleep.
In-office whitening: You've kicked off the bleaching at home, and the second part of KöR teeth whitening is done in your dentist's office. This treatment is meticulously done in one appointment and brings forth that truly white shining smile.
There is no over-the-counter whitening treatment that has the capability to professionally bleach teeth using the powerful ingredients of KöR whitening.
The Perks of KöR Teeth Whitening
Professional teeth whitening is still one of the most popular cosmetic dentistry treatments. It's affordable, customized, minimally invasive, and the results are long-lasting. You've spent years biting and chewing with your tooth enamel, and even if you brush and floss well, tooth enamel still begins to fade and show signs of wear and age.
The benefits of this type of teeth whitening are hard to beat:
Finally eliminate antibiotic stains: People with antibiotic-stained teeth are often told that their smile cannot be whitened with a bleaching product because the stains are permanent. KöR can often get rid of this gray, brown, or yellow discoloration – your Louisville cosmetic dentist can tell you for sure.
No tooth or gum sensitivity: Many patients are concerned about experiencing sensitivity to the bleaching agents in teeth whitening products. KöR's built-in desensitizing method helps prevent tooth sensitivity at home and chairside.
The illusion of perfection: Teeth whitening treatments make any teeth look perfect. Even if you have gaps or a few crooked teeth or other imperfections, they fade into the background when the whiteness of your teeth takes over and creates an illusion of perfection.
Cost Factors of KöR Teeth Whitening
KöR is an affordable cosmetic dentistry treatment. There are several ways the cost factors of this procedure can play out and the final price will depend on:
The type of tooth stains you have
The severity of your tooth stains
Whether you need at-home trays and an in-office treatment
Whether you only require an in-office procedure
Natural Smiles offers a range of financing options to help patients afford the smile makeover procedures they most want for their teeth. There is always a treatment that works with your budget and comfort level.
Get KöR Teeth Whitening in Louisville, KY
Even if you have been told before that you are not a good candidate for teeth whitening, it's time to find out if KöR can work for you. Schedule a consultation with Dr. Kiran Gill and her team to find out what can really happen for your smile. Contact us today at Natural Smiles in Louisville, Kentucky to make an appointment.