$149 New Patient Special
Affordable, quality dental care is easy to find at Natural Smiles in Louisville, KY. Our dental office is committed to making oral health care accessible to everyone, which is why we offer a $149 New Patient Special. An ideal opportunity for patients without dental insurance to get the dental care they need, this special includes the following:
Dental exam
Oral cancer screening
Digital bitewing x-rays
Comfort measures
Dental consultation
New Patient Special Focuses on Preventive Care
There is a lot that happens at every checkup. Dental exams may seem brief, but they are thorough. Your dentist meticulously reviews every aspect of your oral health to deliver the kind of preventive care that stops dental problems before they really have a chance to begin.
Oral cancer screening: Early signs of oral cancer are difficult for the untrained eye to recognize and late diagnosis means treatment is often ineffective. Your dentist, however, is adept at diagnosing this condition in the early stages. An oral cancer screening includes a check of your lips, gums, palate, tongue, and throat and having it done every six months can save your life.
Review of x-rays: There is plenty going on above your gumline, but what about underneath? Bitewing x-rays show what's happening within the pulp and roots of your teeth, making it possible to stop cavities, infections, and more from causing serious pain and problems.
Consultation: During your exam, you can ask all the oral health questions you have, whether you're curious about the best type of toothbrush to use or interested to know if you're a good candidate for Invisalign. This one-on-one time lets you get answers about cosmetic dentistry, restorative dentistry, and more.
Enjoy the Most Comfortable Dental Visit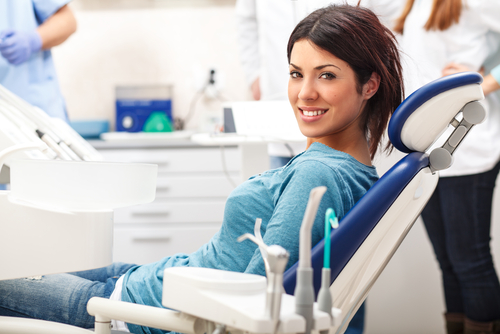 Natural Smiles has created a pleasant, calm environment to help all patients feel at ease, no matter what kind of dental care they are receiving. The priority of Dr. Gill and her skilled team is to make you feel comfortable, and we do that through a carefully curated and relaxed setting that includes what we like to call the Dental Zen Experience:
Plush blankets
Aromatherapy
Warm neck pillows
Noise-cancelling headphones
Overhead TVs
Sedation measures
We want you to feel completely relaxed during treatment. For some people, the reason they stay away from the dentist is because they have dental anxiety. Our Dental Zen measures and minimally invasive techniques are designed for the most apprehensive patients. You should never neglect your oral health because you have worries about going to the dentist – we do whatever we can to get you in the door feeling confident that everything will proceed just fine.
Get a New Patient Special from Louisville Dentist Near Me
We happily welcome new patients to Natural Smiles in Louisville, KY. Our $149 New Patient Special – which saves you $300 – is a great way to start a new relationship with a new dentist and get back on track to excellent oral health.
Contact us at (502) 317-8600 to schedule your appointment with our skilled dental team. Be sure to mention our New Patient Special. We look forward to welcoming you to our family.