Porcelain crowns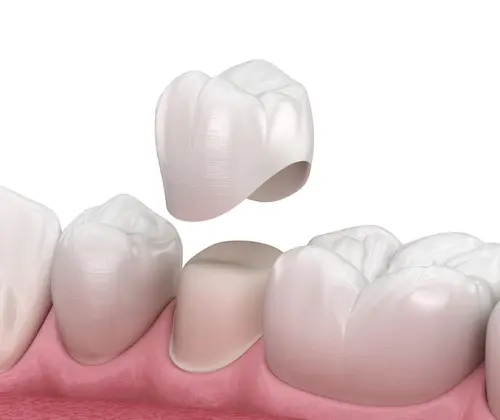 Porcelain crowns are one of the most versatile dental treatments, providing both cosmetic and restorative benefits, depending on a patient's needs. At Natural Smiles in Louisville, KY, we create customized dental crowns to strengthen and beautify teeth, so you have a healthy, attractive smile.
How Porcelain Crowns Work
Often referred to as a cap, crowns are designed to fit completely over a tooth. They are typically made with porcelain, an incredibly durable substance that can also be tinted to match neighboring teeth. The crown is shaped carefully so it is the right width, height, and size and blends naturally into a person's smile, covering up problems and concealing aesthetic imperfections.
Dental Problems That Can Be Fixed with Porcelain Crowns
Crowns can be used to correct so many smile problems. Your Louisville dentist may recommend this solution if you find yourself in any of the following circumstances:
Decayed tooth: A large cavity needs more than a tooth-colored filling to correct the problem. A crown reinforces the structure of the whole tooth, so it looks right and functions properly.
Fractured tooth: Problems multiply with a cracked or chipped tooth because bacteria invades and makes decay more likely, but a quickly placed crown creates a barrier.
Infected tooth: If a tooth is badly infected and requires a root canal to stop the pain, a crown is used to cover the treated tooth and protect it from further damage.
Stained tooth: A discolored tooth that cannot respond to professional whitening can be concealed with a customized crown made of stain-resistant porcelain.
Weak tooth: A weak tooth is more likely to suffer from decay or damage, but a crown stops the problem and protects the enamel from further disintegration.
Misshapen tooth: When you have a tooth that stands out because it looks so different from all the others, a crown covers the unsightliness and makes the tooth the right size and shape.
How the Dental Crown Procedure Works
Getting a dental crown usually takes two visits to your Louisville dentist and begins with a consultation so oral health can be examined and recommendations about the best treatment can be made. Once it's determined that a porcelain crown is the best choice as a restoration or cosmetic enhancement, the procedure carries on as follows:
The tooth is prepped for the crown, whether that means removing decay, conducting a root canal, or reshaping the enamel to make room for the cap.
An impression is typically taken so crown size is accurate and can be properly designed by an outside dental lab.
Some patients have a temporary crown put in place while waiting for the permanent restoration.
There is a brief wait for the crown or crowns to be crafted, usually around two weeks.
Once the customized crown is ready, the temporary will be removed and the new porcelain crown will be put in place.
Your dentist will confirm that the fit and appearance of the crown are correct, with the cap sitting perfectly along the gum line so it looks natural.
The porcelain crown is permanently bonded to the natural tooth.
Are You a Good Candidate for a Porcelain Crown?
A dental crown is a solid, easy solution for compromised teeth. Whether you have a cosmetic issue with a front tooth or a functional problem with a molar, these concerns and anything in between are fixable. At Natural Smiles in Louisville, KY, we accept CareCredit, PPO insurance, and all credit cards, which means there is always a way to cover the important dental care you need.
If you're unhappy with the appearance of your smile or have tooth pain or damage that needs to be addressed right away, contact us to schedule an appointment with Dr. Kiran Gill and her dental team. We'll make your smile beautiful and healthy.