GET PROFESSIONAL WHITENING TODAY. CALL NOW TO SCHEDULE YOUR APPOINTMENT!
Teeth Whitening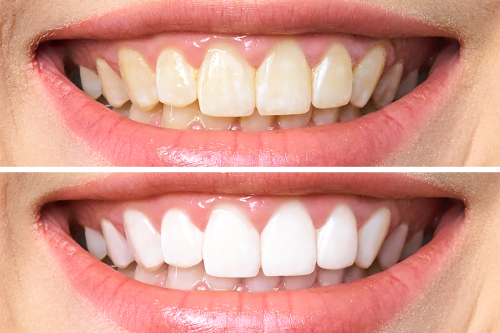 You look in the mirror when you brush your teeth, and there it is. You see a smile full of yellow, dark, and dingy teeth. Our Louisville, KY dentist Dr. Gill's professional teeth whitening treatment can lift those dark stains and give you a gleaming, attractive smile once again. Call our dental office to schedule your teeth whitening treatment in the Louisville, KY area appointment today.
How do teeth go from white to dingy?
Most people's teeth come in looking white. So what happens? How do your teeth turn dark, yellow, and dingy? Mostly, it's from your food and drink. Every time you eat, a tiny amount of food and drink gets stuck in tiny grooves on your teeth. At first, they're so small that you cannot notice it. It takes years for the stains to build up. Coffee, tea, wine, and soda can darken your teeth, as can curry, berries, and tomato sauce. Tobacco use also stains your teeth.
What kind of teeth whitening can I get?
At our Louisville, KY dental office, you can choose from two whitening systems: Zoom and KöR.
Zoom! teeth whitening includes a concentrated gel that is applies to your teeth. A special laser is used to activate the whitening agent in that gel, lifting the stains and whitening your enamel.
KöR teeth whitening will also lift stains from your teeth. The results can be dramatic, whitening your teeth by as much as 16 shades. KöR includes a special agent that helps prevent your teeth from becoming overly sensitive to the whitening gel.
How can I help keep my teeth white?
There are two things you can do to help maintain that great, white color you just reached. First, be careful about the food you eat. Again, most stains come from foods and drinks. When you are finished with dark foods or beverages, rinse your mouth out with water and then brush. Also, you will receive take-home trays and whitening gel. These can be used periodically to maintain your white teeth.
If you are ready for a cosmetic dentistry treatment and to show everyone a bright, white smile, call Natural Smiles in Louisville, KY today at 502-893-5225 or use our convenient online form.